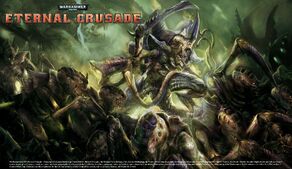 Synapse: [1]In the tabletop version of Warhammer 40,000, some Tyranid units need to be within range of Synapse-granting units, such as the Hive Tyrant, in order for them to fight together and not disperse against poweful enemies. Not only will synapse behavior be modeled in Eternal Crusade, but the Dev team has also brought an A.I. Expert aboard to design, from the ground up, a specific A.I. just for the Tyranids.
[2]Hives will be the Tyranid equivalent of player factions' home base. A much higher ammount of Tyranids will be found here including more higher level units. Players will be able to drop a team into a Tyranid Hive, outside of friendly territory, right in the middle of a Hive. The players will have to defeat wave after wave of enemies, increasing in ferocity and frequency, until the strike team is over run and destroyed, or victory is achieved. With little to no support from home, these raids are meant to be very challenging. Doing so may help in holding back Tyranid advancement in Arkhona, as well as a means to acquire requisition points and help the player's faction.
Available Units
Edit
The following unit descriptions are based off of their tabletop descriptions. It is expected that these classes will fulfill similar roles in the fields of battle of Eternal Crusade.
⁵Termagants: Termagants are amongst the smallest of the Hive Mind's warriors. In planetary invasions they scuttle forwards unleashing torrents of fire. They are considered expendable by the Hive Mind, and are treated as such, often being sent to die in their droves in order to deplete the enemy's ammunition or overrun defensive positions. (Source)
⁵Hormagaunts: The Hormagaunt is a highly specialised Tyranid bioform. Each Hormagaunt has four razor-sharp claws specially developed for ripping and piercing flesh and armour, and powerful hind legs that allow the creature to dart into combat at an astounding speed. (Source)
⁵Genestealers: Genestealers are legendarily ferocious close combat opponents, with lightning fast reflexes and deadly claws, capable of ripping through adamantium. They have their own brood telepathy enabling them to function outside the range of the hive mind. (Source)
⁵Tervigons: The Tervigon is a massive, living incubator, beneath whose lumpen carapace dozens upon dozens of Termagants slumber in a state of near-life – and it can spawn its dormant broods at will. The Tervigon displays all the horrific might so typical of the Tyranids, and is a suitably stomach-churning addition to a Tyranid collection. Standing on four limbs, two of which are hoofed, the other two being barbed and arrow-sharp, it features an outer carapace with chimneys, and a long, segmented chitinous tail. Its underside is no less hideous as it comes caked with ichor and is bubbling up as Termagants spawn from its distorted flesh. (Source)
⁵Carnifex: The Carnifex is a living engine of destruction evolved for use in shock assaults, spaceship boarding actions and massed battles where it can smash through almost any obstacle, whether it is a defensive line or enemy tank. A Brood of between one and three Carnifexes can be fielded as a single Heavy Support choice. (Source)
⁵Hive Tyrants: Commanders of the Tyranid swarm, Hive Tyrants are the enactors of the Hive Mind's will. Massively powerful creatures, every part of their body is perfectly created to maim and kill. The Hive Tyrant is an incredibly dynamic model, posed with monstrous, fibrous and ragged wings extended out wide and with only its serpent-like tail touching the ground, as if launching off into flight (or to pounce on its prey). Like other Tyranids, it has a distinctive chitinous shell with chimneys on its back, and a hideous skeletal underbody. (Source)
Reference Log
Edit
↑ O'Brien, Terry. "Warhammer 40.000: Eternal Crusade Interviews: The Tyranid Hive Revealed" MMORPG.com, 06/05/2014
↑ O'Brien, Terry. "Warhammer 40.000: Eternal Crusade Interviews: The Tyranid Hive Revealed" MMORPG.com, 06/05/2014
Ad blocker interference detected!
Wikia is a free-to-use site that makes money from advertising. We have a modified experience for viewers using ad blockers

Wikia is not accessible if you've made further modifications. Remove the custom ad blocker rule(s) and the page will load as expected.