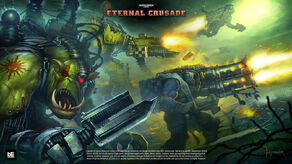 [1]
"Warriors of the Waaagh!
It may not matter to the countless victims of The Green Tide throughout the universe, but each Ork is a member of a tribe and then one of several distinct Ork cultures known as Clans.
The Evil Sunz love speed above all else, while Bad Moons equip themselves with the shiniest gear and Deathskulls are experts at looting and bashing weapons together. Goff are the most brutal, preferring to fight up close and personal.
While chaotic and frequently disorganized, members of different Clans sometimes put their differences aside to fight for the glory of the Orkoid species in the galaxy's greatest conflicts."
[2]Evil Sunz, Bad Moons, Deathskulls, Goff, and the Blood Axes will be the Clans joining this war.
Player Classes
Edit
The following classes have been confirmed to be available at launch in the game, their descriptions are based off of their tabletop descriptions. It is expected that these classes will fulfill similar roles in the fields of battle of Eternal Crusade.
[3]Shoota Boy: Boyz are the rank and file of an Ork army. Orks are tough, determined fighters who fall upon the enemy in great tides of howling violence. Generally armed with the heavy, solid-shot, slugga and brutal, edged choppas, they blow great gouges from the enemy before hacking them apart (Source).
[4]Loota: Ork Meks are responsible for creating the most destructive weapons an Ork can lay his big green hands on. Whether it is the surprisingly sophisticated Burnas or the far louder, shoulder-mounted Deffguns, a Mek is never short of customers (Source).
[5]Stormboy: Stormboyz, the shock troops of many successful warbands, dedicate their lives to the time honoured martial disciplines of drilling, marching and hurtling through the air. To this end they go to war strapped to rokkit packs that, when activated propel their wearers forward on great tongues of oily black flame (Source).
[6]Painboy: Painboys are at home amongst the blood and horror of the battlefield, eagerly patching up lost limbs, doing a spot of welding on a broken face or furnishing the Warboss with a brand new flame-throwing arm. They learn their craft through a mixture of instinct, trial and error, and the time-honoured principles of 'Orky know-wotz' (Source).
Hero & Elite Classes
Edit
The following classes have been confirmed to be available at launch in the game, their descriptions are based off of their tabletop descriptions. It is expected that these classes will fulfill similar roles in the fields of battle of Eternal Crusade.
[7]Mega Nob: Ork veterans who value the thrill of close combat above all else often become Meganobz. Only the richest Ork Nob can afford to join the ranks of this elite group. They are characterised by the bulky exoskeletons they wear into battle, which they call mega armour, and by a dogged belief in their own invulnerability (Source).
[8]Weirdboy: Weirdboyz are the most psychically powerful of all Orks as they act as a focal point for the psychic energy generated by their greenskin comrades. Orks are generally pretty rowdy, and as a result the Weirdboy can pick up quite a lot of psychic energy which can, unless dissipated, prove spectacularly fatal for him. Weirdboyz often release their pent-up energy as a devastating blast, resulting in a messy and untimely death for anyone in the vicinity. Sometimes they disappear entirely, reappearing amongst the enemy with a blinding green flash. However their powers manifest, the Orks that follow them into battle are always guaranteed a good show (Source).
[9]Cybork: The Cybork Body is effectively a complete rebuild of the Orks body using crude cybernetics and bionic implants. Often made with built in armour plates and weaponry, this makes Orks extremely tough and able to shrug off hits that other fleshy Orks would be downed by. These bionics can range from crude and simple to extremely complex and overbuilt. Either way, the Orks robust physiology adapts fairly well to the comparatively poor-quality and unsanitarily-attached grafts (Source).
[10]Kommando: Ork Kommandos epitomise the Orky virtue of low cunning. Nothing makes one happier than creeping up on an unsuspecting enemy, his mates slithering through the undergrowth at his side. When the time is right, the Kommandos will burst from their concealment, slashing, stabbing and shooting their stunned prey before they have a chance to strike back (Source).
[11]Big Mek: Big Meks are responsible for inventing, building and maintaining the machinery and weaponry that the Orks use. They are obsessed with creating ever larger and more devastating war machines to unleash upon the foe. A Big Mek will traditionally take to the battlefield armed with their favourite invention - in this case, a Kustom Force Field. This bizarre contraption covers all units nearby with a rudimentary force field that protects Da Ladz from incoming fire. The Big Mek may be odd in the head, but nearby Orks really do appreciate his presence (Source).
Rogue Trader Class Variations
Edit
The Rogue Trader store offers variations of existing Elite and Hero classes with exclusive variations to their appearance, and to a limited extent, their functionality.
[12]Cybork Madboy: Orks driven insane by the crazed experimentation and surgery of over-enthusiastic Painboyz and Mad Doks, Cybork Madboyz are cybernetic killing machines that are inured to pain and almost uncontrollable on the field of battle. 'More machine than green', these orks have been extensively modified, with mechanical limbs and metal 'eads, making them ideal – if unpredictable – shock troops, leading the charge into the enemy.
[13]Skarboy Kommando: Ork Kommandos are the most stealthy and cunning orks of all; these are greenskins that delight in creeping up on their enemies from behind and attacking before they are even aware they are there. While some Orks sees such tactics as being un-orky, preferring the time-honoured tactic of running straight at the enemy, screaming all the while, kommando's are undeniably effective killers. The best of the best of these sneaky gitz are the Skarboy Kommandos. Big enough and tough enough to push even nobz around, Skarboy Kommandos are experts at leading the boyz into battle from unexpected quarters, infiltrating them behind enemy lines and launching devastating surprise attacks.
Vehicles & Transportation
Edit
The following vehicles have been confirmed to be available at launch in the game, descriptions are based off of their tabletop descriptions. It is expected that these vehicle will fulfill similar roles in the fields of battle of Eternal Crusade. [14]It has been confirmed that all vehicles with wheels, tracks, or that hover found in the tabletop will find their way into Eternal Crusade (so no flyers), but the following are the ones that have been confirmed directly or mentioned by the developers.
[15]Warbuggy: A single Ork Warbuggy isn't usually enough to pose a serious threat – Orks are notoriously poor shots and the rapid, erratic movement of a gun-mounted buggy just compounds this. Problems arise, however, when several Warbuggies band together. The sheer amount of incoming fire inevitably means that the law of averages kicks in and something is getting blown up. A group of co-ordinated Warbuggies is more than capable of mowing down an enemy platoon if they're not careful.
[16]Trukk: Trukks are designed to transport mobs of choppa-wielding Boyz into combat as quickly as possible. Each warband and clan will 'kustomise' its trukks to reflect their own predilictions. For example, a Goff vehicle will be functional with a large crew compartment, while the Evil Sunz almost always have turbo-charged engines and a red paint job (Source).
[17]Battlewagon: Battlewagons are massive metal gunbeasts that prowl through the ranks of the Orks on great clanking treads. Some are mobile fortresses, packed to the gunnels with Ork warriors. Others bristle with ordnance and heavy weaponry. The iron fists of the Ork warband, Battlewagons fulfil many battlefield roles, but first amongst them is grinding the enemy into the ground (Source).
Unsorted Facts
Edit
Gretchins most likely will be in the game but they won't be playable at launch. A Grot hero class might also be included in the future (Source 1, Source 2).
If a single Ork has the skill, he should be able to take out a Space Marine 1vs1 (Source).
Ad blocker interference detected!
Wikia is a free-to-use site that makes money from advertising. We have a modified experience for viewers using ad blockers

Wikia is not accessible if you've made further modifications. Remove the custom ad blocker rule(s) and the page will load as expected.